There is the general meeting which all members participate in, the steering committee which consists of main members, a sub-committee, and the working groups (WG) that carry out actual discussions, debates, tests, case studies and more under the direction of the sub-committee. Members can not only propose their suggestions and thoughts on the management of IoS-OP, but also participate in ShipDC meetings/events, be active WG members, use testbed service, and develop their business in many ways with ShipDC.
Organizational Structure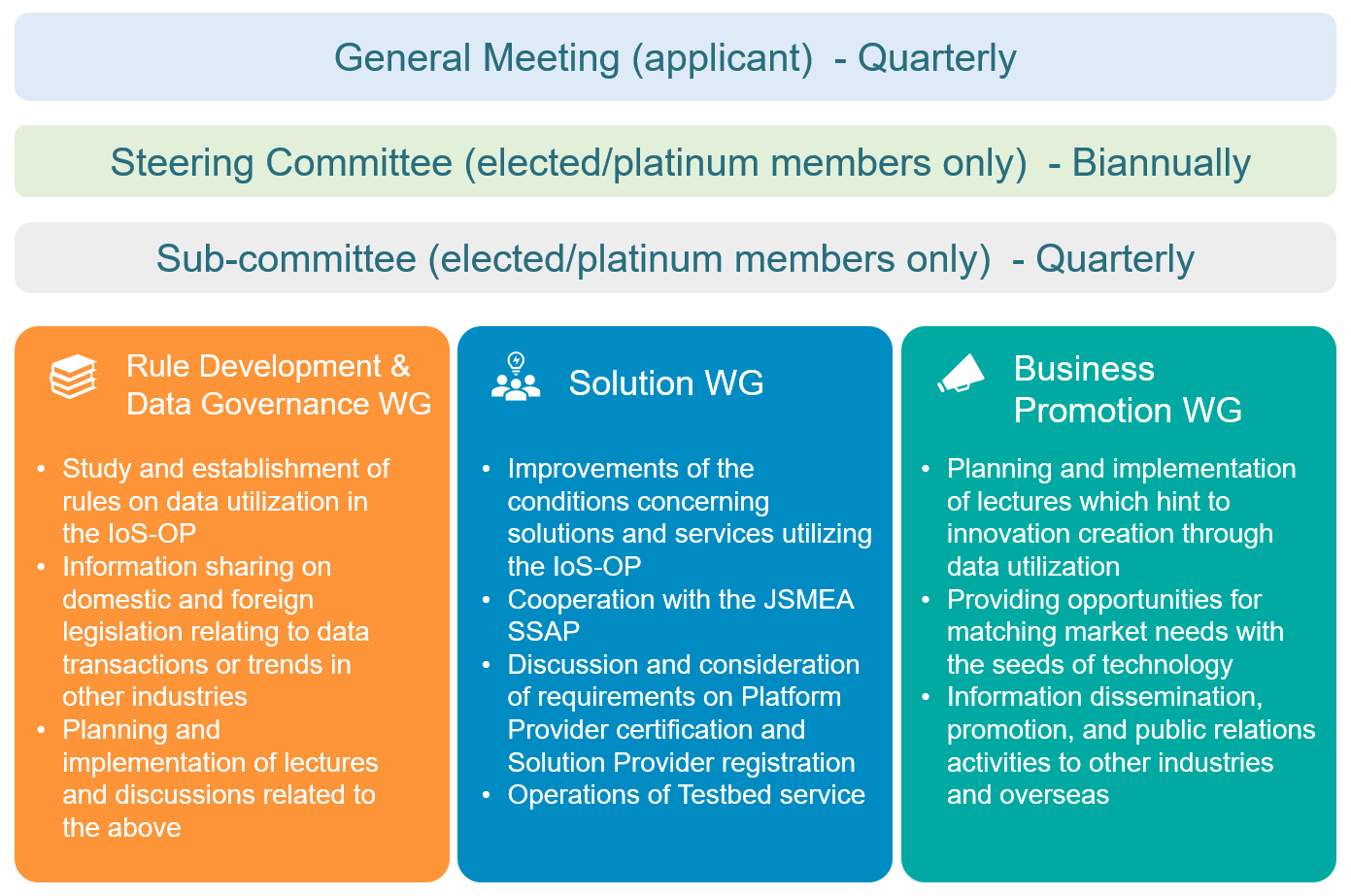 Rule Development & Data Governance WG
A place to discuss the establishment of rules that data providers and users who wish to use the data can both agree to.Holds discussions mainly about proposals by the solution WG. Also examines the establishment and reform of IoS-OP agreements.
Maintenance of data catalogs for new uses
Maintenance of legality between data providers and e users
Reform of agreements
Legal consultation
Legal education
Solution WG
Standard catalog maintenance
Converts distributed data to catalog form, examines confidentiality of such data and makes it available for IoS-OP agreement discussions.
Handling of solution needs
Continuously considers usage rules responding to the needs of data users (SP/DB) while data providers can distribute data with peace of mind.
Testbed service
Provides an environment in which tests can be conducted for the collection/sending, storage, extraction, and use of data through satellite transmission just as in onboard operations.
Business Promotion WG
Business matching
Provides a (meeting) place that matches market needs with technology in order to create new value through collaboration with interested participants from around the world and other industries and realize further innovation.
Information sharing
Continuously provides a collaborative learning environment by introducing initiative examples of the government (such as activities by the Ministry of Land, Infrastructure, Transport and Tourism and Ministry of Economy, Trade and Industry), maritime industry, ICT companies of other industries, and by holding seminars which can provide hints for innovation by data usage.
Public relations activities
Publicizes information for collaboration among global participants to expand IoS-OP activities.